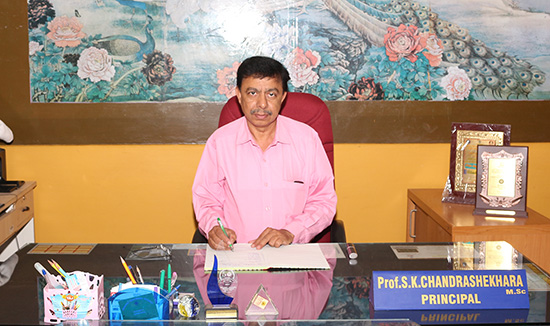 I consider it as a great honour to be the Principal of this esteemed Institution, DVS College of Arts and Science. As a stake holder, I have witnessed the best of this College is past three decades as an academician and for one year as on administrator.DVS College of Arts and Science is one of the educational Institutions under the canopy of Deshiya Vidhya Shala Samithi [R].This College has traversed and tread the path laid by the Honorable founder members, in peinciple who democratized the education in and around the Shimoga district to out reach all sections of the society with out discrimination in both pre and post independent period.
         Presently this College has fulfilled the founders dreams by performing excellently in the spheres of higher education. It is a pioneer. Institution affiliated to Kuvempu University, with 2F and 12B and NAAC 'B' grade accreditation with a CGPA of 2.81.Our College is most popular in and around Shivamogga .The college is endowed with a well equipped and sophisticated Laboratories for courses in Basic Sciences, Arts and Humanities. Very good laboratory for applied biological science has been established annexed to the Department of Environmental Science, which is well used by the students for carrying out Projects in biological science.
          I am proud of highly qualified teaching staff in all faculties of Science, Arts and Humanities. they have been role models to students to make outstanding achievements in university examinations. It is my humble submission to highlight that our students have bagged 5 ranks in the previous academic year. Our students have secured cent percent make in many subjects consistently over the years.
         To combat the challenges-ICT Initiatives, digitalization of library, establishment of UGC resource center and UGC Research projects are all on anvil in our college. The career and Guidance cell in college with high competence has successfully unrevealed the openings and placements in reputed companies like WIPRO, Accenture, Infosys, Tech Mahindra, Mphasis etc. The college has created ample scope for extra-curricular activities-Cultural ,Sports ,NSS,NCC and Redcross for overall Personality development and to top the hidden talents of students .The students are also involved in the Activities of Bio-Club, Literary association and Iitihasa Vedike and Economic Forum to promote the leadership qualities and enable personality development. Educational visits are conducted to collect specimens in Biological science. Visits are also made to industries and research organizations.
            To commemorate Golden Jublee celebration, this year would be the hub of several academic, research, cultural and sports activities in collaboration with Universities, R&D organizations, NGOs and industries and also we are going to start B. Com from this academic year.
             Last but not the least as a teacher I strongly believe and convey to the parents that "your Children are our Children, their growth and prosperity is our motto" and we assure you the best of educational services.
Principal
DVS College of Arts & Science
Sir M. V. Road, Basaveshwara Circle,
Shivamogga -577 201.